Discover Downtown Wylie
Historic downtown, the heart and soul of Wide Awake Wylie
Wylie has become one of the fastest-growing cities in Texas, but the place to be seen is still Historic Downtown Wylie. With the many shops, century-old buildings and Olde City Park, there is something for everybody.
With activities planned on Ballard St, you'll have plenty of opportunity to see your friends and neighbors. Families with children can enjoy play time in the park. Children and teens can spend time at any number of the local church's rec activities. Take care of your chores with dozens of service companies here, enjoy some of the best local food around, stay in shape at the local fitness centers, pamper yourself at the salons and shops, or sing along at the famous Wylie Opry. There are many wonderful shops and services in historic Downtown Wylie.
Downtown Merchants Shopping Spree
The Wylie Downtown Merchants Association is hosting its annual Shopping Spree, Nov. 26 to Dec. 18.  The shopping spree has taken place since 2003.
Shoppers are invited to drop by participating stores in the historic downtown area, pick up a Shopping Spree entry form, fill it out, drop it off – and wait to be contacted with the news that they've won $500 worth of gift certificates.
Three gift certificates will be awarded this shopping season. The drawing will be Dec. 19. Participants must be 18 or older.
Click on the form above, and bring it with you to any one of the Downtown Wylie shops before Dec 18th to enter. Good luck!
Arts Festival, Parade, Christmas Tree Lighting, Train, Festive Fun!
Come to Historic Downtown Wylie for some holiday cheer with family and friends this Dec 6th, 2014.
The Wylie Arts Festival will be in the First Baptist Church Events Center, 200 N. Ballard Avenue.  Shop for fine art and handmade crafts; listen to the sounds of the season; and enjoy festive foods.  Admission is free.
The Festival of Lights Christmas Parade will travel down Ballard Ave, through downtown. Come early to save a spot, enjoy the food, sights, and sounds of Christmas.
Click for more information on our events page
Boo on Ballard was a blast!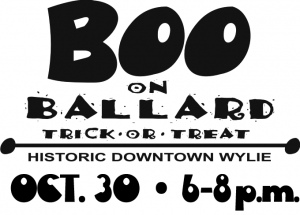 Boo on Ballard was so much fun! Here are some pictures from the trick-or-treat evening.
Wylie Jubilee was a lot of fun this year!
The Wylie Jubilee Bluegrass on Ballard was so much fun this year! Here are pictures from the event on the City of Wylie's Flickr page:
Pictures from 2014: City of Wylie Flickr page
Pictures from 2013: City of Wylie Flickr page
Thank you so much for all spending the day with us. Thank you to the event sponsors, Wylie organizations, and vendors for supporting the event, community, and our merchants in downtown Wylie. We are looking forward to next year!